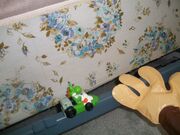 yoshi wars wii is the first video game with
Future yoshi
.
One day in mushroom kingdom, BoBo ate magic pizza with out knowing, and becomes a black ghost.
yoshi is sent to stop dark BoBo from eating all the toad's brains.
so yoshi goes through 8 worlds to stop dark BoBo from devouring a toads brain.
in the end of the game a toad is screaming as dark BoBo is holding it.
charecters.
Edit
yoshi-playable.
toad-damsel in distress.
dark BoBo-antagonist.